As any good businessman would tell you the location of your enterprise is of vital importance. One must constantly be looking for more favorable placement or to expand his business. Actually moving your inventory to a new spot however often proves to be an enormous hassle. Luckily for you, you can always count on Andy Removals' impeccable commercial relocation services in London.
Why choose us?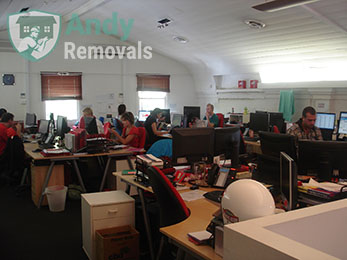 Relocations of any sorts especially in the capitol of the UK are in high demand. this means that there are hundreds of other firms like ours, looking to take advantage of that. What we have, that they don't is our:
Experience
Motivation
Equipment
…that far outshines anything our competitors can offer.
We always demand the best from our employees, because all of them have been picked for their capabilities and aptitude for the line of work. We have an intensive training process that helps them to handle any sort of relocations. Some of our packers and movers have been with us for many years now and they have contributed immensely to the impeccable reputation that we enjoy today. We believe that there is no removal service in London our experts cannot handle.
Excellent in every single way
To keep our spot at the top of the moving industry we cannot afford any mishaps. This is the reason why all of our equipment is of the highest quality and regularly inspected.
While a lot of people neglect the very existence of packing supplies, the difference between different types of them is enormous and shoddy packing could spell disaster for your items. High-quality materials insure the safety of your office inventory, as well as the safety of the environment.
Speed is of the essence in our line of work, which is why we hire only the most experienced drivers and make use of the newest vans available.
Easy, fast and cheap
Reaching us in undoubtedly convenient, as we are available by phone or online. Take advantage of our perfect office removals in London right now to receive full insurance as well as round the clock service. we offer the cheapest offfice relocations in the city. All of our work should be affordable as you pay only for the work that you need us to do. Do not forget to request our free price estimate to have an idea how much your service will cost before booking a job with us.
Book us for your inter-city relocation
While we operate predominantly in London, this does not mean that we can lend you hand with your pending inter-city relocation. We can help you relocate your place of work to any major urban area throughout the United Kingdom, including Birmingham, Bristol, Leeds, Oxford and Brighton. We have vehicles that are perfectly equipped for long-distance hauls and we have the drivers to make sure that you get your belongings in a safe and timely manner. Learn more about our London office removal services by exploring our website.
What started as a small settlement in ancient past is one of the biggest and most prosperous cities on the globe. London is also home to more than eight million people. Even today it acts as one of the largest, if not the largest commercial and cultural centres in Europe.
As you have already understood, our moving firm is based in London. The English capital is recognised as a global city and is as of date the most visited place on Earth. This is due to the fact that we city is home to an abundance of internationally renowned landmarks such as Buckingham Palace, St. Paul's Cathedral, Kew Gardens, Tower Bridge and more.