Moving from London to Bristol can easily turn into a living nightmare. Luckily for you, Andy Removals can make your relocation smooth and effortless without forcing you to pay sky-high prices. Regardless of whether you plan a domestic or business relocation, we have the experience and the motivation to assist you in every way we can.
Our customers' satisfaction is everything to us
As an ambitious and well-established removal firm, we always give 100% to make our clients happy. We can promise you excellent quality and top notch moving home services.
We have invested in a great armada of powerful and up-to-date moving vans and trucks that are fully-equipped to securely transport items of any size, shape and weight.
All of our employees have gone through vigorous training, allowing them to offer you professional assistance in terms of the packing, loading, transporting and the unloading of your furniture and personal belongings as part of your London to Bristol removal.
Our work schedule is based on your preferences, which means you can hire us after regular business hours or even on national holidays.
Andy Removals London are fast and efficient when moving homes from London to Bristol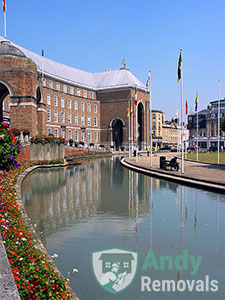 We do not believe in sacrificing quality over speed or speed over quality, for that matter. We can promise you both of these things because we have the brains and the power for that. Our meticulous team has excellent organizational skills and carefully plans each step of our job, enabling us to carry out our work quickly and effortlessly. The reliable moving vans that we use have GPS tracking which further contributes to a punctual and fast delivery.
Go through a safe move to Bristol
At Andy Removals, we use only the best packing materials and lifting tools. This allows us to quick and efficiently, prepare and load large quantities of items without any complications and costly delays. The paddings and waddings that we use are recyclable and have been tested vigorously by our competent packers. The same goes to the lifting instrument that we use because we strongly believe that a company is only as good as its technical capacity. After all, it is not a fluke that we are known to provide the most secure removals from London to Bristol.
Comfortably sitting between the hills of the southwestern part of England, Bristol is among the sunniest and warmest cities in England. The local population, which is often called Bristolians, amounts to about 450,000 people. Over the last one decade, Bristol has successfully established itself as one of the best cities in the UK. Although it is well-developed, the city has an impressive history which goes back to the Middle Ages.
Bristol is the 12th largest city in Britain and one of England's most popular touristic destinations. The Bristol Cathedral is perhaps the most prominent landmark of the city. It construction commenced in 1220 and ended over six centuries later in 1877. It is built in the Norman and Gothic architectural styles, and is recognised as a Grade I edifice by the British authorities.