Relocating to a new country can be an incredibly stressful and time-consuming experience. That is because moving to a faraway place is not only a major life transition, but it is something that involves a great deal of planning and preparation. The good news is that Andy Removals is here to help you through every stage of your relocation. We have great experience and are able to quickly and easily provide you with the best international removal solution for your needs.
We value the safety of your belongings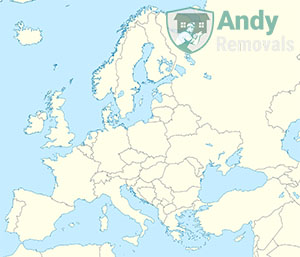 Andy Removals can assure you that your items will be safe and well taken care of in the hands of our competent and trained staff. We will skillfully pack and prepare each of your belongings for transportation using only professional packing supplies. Our friendly experts will assist you in choosing the most suitable transportation option for your relocation, among which are:
Sea transportation – If you are planning an overseas relocation, we can rely on this method to transit your possessions. Through it, your goods will be safely transported in special water-proof containers at a good price.
Road transportation – Our modern and fully-serviced moving vans will quickly and efficiently transit your belonging to different parts in Europe.
Air transportation – We will transport your possessions to the airport with our well-maintained and clean vans and trucks. Once delivered to the country of destination, our thorough import coordinators will organize the items' risk-free transportation to your new home or office.
Affordability is a mission possible
Although it is true that international removals cost more compared to national removals, for example, we can guarantee you both reasonable pricing and top quality services. Our diligent and highly motivated professionals will carefully estimate your moving costs and offer you a custom quote that will be based on your relocation budget. Since one of our priorities is being honest and open with our customers, we will not burden you with any hidden or additional costs or overcharge you. Our courteous employees will take the time to guide you through the specifications of the entire international removal process. In that way, you will be well-informed on how you spend your money.
Flexible hours, round the clock availability
The timetable of your international relocation won't be an issue because we operate with a flexible schedule that will permit us to handle your move at a day and time that best fits you. The thing about working with a well-drafter agenda is that it always has free slots for new jobs and gives us the possibility to accept last minute bookings. We also carry out late night operation when necessary, so you can rest assure that we are more than ready to provide you the removal services that you need.
We believe in maintaining a good communication with our clients. As a result, Andy Removals has a 24/7 customer support through which you can connect to our helpful personnel that can update you on the progress of your removal, give you professional moving advice or answer any questions concerning our international removal services or prices.
Our company's base of operations is situated in the capital of England, London. It is one of the most populous cities in Europe with a population of about 14 million people, metropolitan area included. It is the location of four UNESCO World Heritage Sites, which explains why it is currently the most visited tourist destination on the planet. London is also home to some of the best theatres in the world.